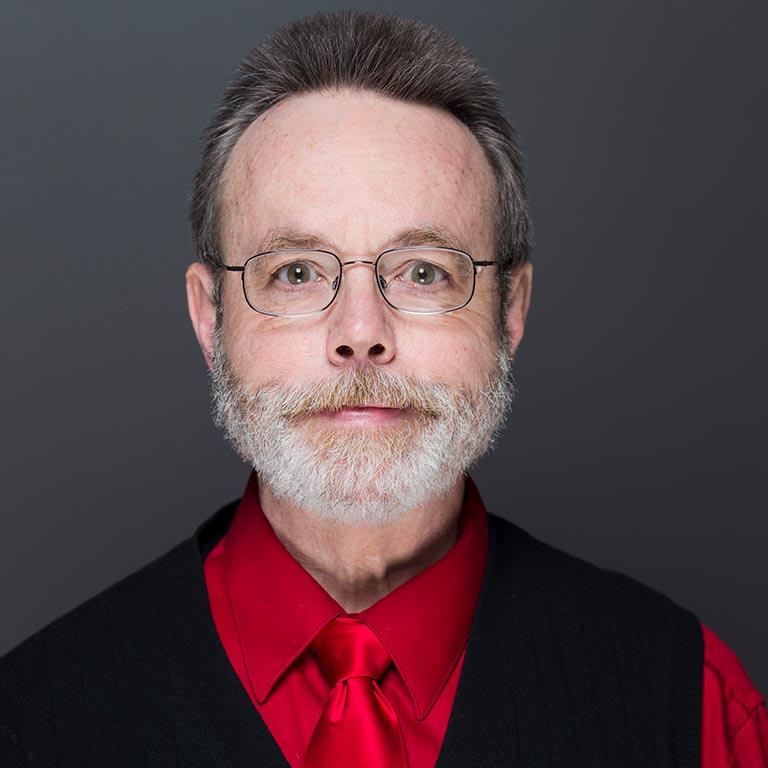 Phone:

812-856-4681

Email:

wilswans@iu.edu
Indiana University School of Optometry
800 E Atwater Ave
Room 327

Bloomington,
IN
47405-3635
Biography
William H. Swanson received his Ph.D. in Biophysics and Theoretical Biology in 1984 from the University of Chicago, where he also completed a postdoctoral fellowship in Ophthalmology and Visual Science from 1984 to 1987. From 1987 to 1999, he performed clinically-oriented research on a range of eye diseases at the Retina Foundation of the Southwest in Dallas, Texas, where he became a Senior Research Scientist and Assistant Research Director. In 1999 Dr. Swanson moved to SUNY State College of Optometry in New York, where his research focused exclusively on glaucoma, and he achieved the rank of full Professor in 2002. In 2006 Dr. Swanson joined the faculty at Indiana University School of Optometry, while maintaining collaborations with clinical researchers at SUNY.
Dr. Swanson has published numerous articles about his research and frequently presents his work at national and international conferences. He is a member of several professional organizations: American Academy of Optometry, Association for Research in Vision and Ophthalmology, Optometric Glaucoma Society, Imaging and Perimetry Society, and Glaucoma Progression Scholars. Dr. Swanson's honors include the SUNY Chancellor's Award for Excellence in Research, Fellow American Academy of Optometry, SUNY Chancellor's Award for Excellence in Scholarship and Creative Activities, New York State Optometric Association Distinguished Service Award, and Silver Fellow Association for Research in Vision and Ophthalmology.
His research has been funded by NIH since 1991, during which time he has served as a consultant for the National Eye Institute, the Food & Drug Administration, Veteran's Affairs, Fight for Sight, and for several businesses (Alcon Laboratories, Neurotech, Carl Zeiss Meditec, Heidelberg Engineering).
Education
Ph.D. in Biophysics and Theoretical Biology, University of Chicago (1984)
Publications
William H. Swanson's public bibliography
Pearson PM, Schmidt LA, Ly-Schroeder E, Swanson WH. Ganglion cell loss and 

age-related visual loss: a cortical pooling analysis. Optometry and vision

science : official publication of the American Academy of Optometry. 2006;

83(7):444-54. NIHMSID: NIHMS8069 PubMed [journal] PMID: 16840870, PMCID: PMC1636583

Pan F, Swanson WH, Dul MW. Evaluation of a two-stage neural model of glaucomatous defect: an approach to reduce test-retest variability. Optometry and vision science : official publication of the American Academy of Optometry. 2006; 83(7):499-511. NIHMSID: NIHMS12538 PubMed [journal] PMID: 16840874, PMCID: PMC1808334

Sun H, Dul MW, Swanson WH. Linearity can account for the similarity among

conventional, frequency-doubling, and gabor-based perimetric tests in the

glaucomatous macula. Optometry and vision science : official publication of theAmerican Academy of Optometry. 2006; 83(7):455-65. NIHMSID: NIHMS12539 PubMed [journal] PMID: 16840860, PMCID: PMC1752204

Wyatt HJ, Dul MW, Swanson WH. Variability of visual field measurements is

correlated with the gradient of visual sensitivity. Vision research. 2007;

47(7):925-36. NIHMSID: NIHMS20393 PubMed [journal] PMID: 17320924, PMCID: PMC2094527

Yang A, Swanson WH. A new pattern electroretinogram paradigm evaluated in terms of user friendliness and agreement with perimetry. Ophthalmology. 2007; 114(4):671-9. NIHMSID: NIHMS53725 PubMed [journal] PMID: 17398319, PMCID: PMC2430737

Malik R, Swanson WH, Garway-Heath DF. Development and evaluation of a linear staircase strategy for the measurement of perimetric sensitivity. Vision

research. 2006; 46(18):2956-67. NIHMSID: NIHMS53726 PubMed [journal] PMID: 16764899, PMCID: PMC2430742

Hot A, Dul MW, Swanson WH. Development and evaluation of a contrast sensitivity perimetry test for patients with glaucoma. Investigative ophthalmology & visual science. 2008; 49(7):3049-57. NIHMSID: NIHMS56754 PubMed [journal] PMID: 18378580, PMCID: PMC2532064

Gardiner SK, Swanson WH, Demirel S, McKendrick AM, Turpin A, Johnson CA. A two-stage neural spiking model of visual contrast detection in perimetry. Vision research. 2008; 48(18):1859-69. NIHMSID: NIHMS66214 PubMed [journal] PMID: 18602414, PMCID: PMC2553713

Chen Y, Wyatt HJ, Swanson WH, Dul MW. Rapid pupil-based assessment of

glaucomatous damage. Optometry and vision science : official publication of the American Academy of Optometry. 2008; 85(6):471-81. NIHMSID: NIHMS68890 PubMed [journal] PMID: 18521026, PMCID: PMC2814078

Swanson WH, Pan F, Lee BB. Chromatic temporal integration and retinal

eccentricity: psychophysics, neurometric analysis and cortical pooling. Vision

research. 2008; 48(26):2657-62. NIHMSID: NIHMS80281 PubMed [journal] PMID: 18417185, PMCID: PMC2613683

Sun H, Swanson WH, Arvidson B, Dul MW. Assessment of contrast gain signature in inferred magnocellular and parvocellular pathways in patients with glaucoma. Vision research. 2008; 48(26):2633-41. NIHMSID: NIHMS80284 PubMed [journal] PMID: 18501947, PMCID: PMC2825154

Patel S, Schwartz SH, Swanson WH. Differential vertical visual latency as

determined with a simultaneity paradigm. Vision research. 2010; 50(5):534-40. NIHMSID: NIHMS167547 PubMed [journal] PMID: 20034513, PMCID: PMC2836929

Chen Y, Wyatt HJ, Swanson WH. Pupillary evaluation of retinal asymmetry:

development and initial testing of a technique. Vision research. 2005;

45(19):2549-63. NIHMSID: NIHMS10950 PubMed [journal] PMID: 15907969, PMCID: PMC1633710

Felius J, Swanson WH. Effects of cone adaptation on variability in S-cone

increment thresholds. Investigative ophthalmology & visual science. 2003; 44(9):4140-6. PubMed [journal] PMID: 12939338

Swanson WH, Felius J, Pan F. Perimetric defects and ganglion cell damage:

interpreting linear relations using a two-stage neural model. Investigative

ophthalmology & visual science. 2004; 45(2):466-72. PubMed [journal] PMID: 14744886

Swanson WH, Dul MW, Fischer SE. Quantifying effects of retinal illuminance on frequency doubling perimetry. Investigative ophthalmology & visual science. 2005; 46(1):235-40. PubMed [journal] PMID: 15623778

Schwartz SH, Swanson WH. Empiric determination of corrected visual acuity

standards for train crews. Optometry and vision science : official publication of the American Academy of Optometry. 2005; 82(8):774-8. PubMed [journal] PMID: 16127344

Shafi A, Swanson WH, Dul MW. Structure and function in patients with glaucomatous defects near fixation. Optometry and vision science : official publication of the American Academy of Optometry. 2011; 88(1):130-9. NIHMSID: NIHMS248638 PubMed [journal] PMID: 20935585, PMCID: PMC3014396

Gardiner SK, Demirel S, Johnson CA, Swanson WH. Assessment of linear-scale indices for perimetry in terms of progression in early glaucoma. Vision research. 2011; 51(16):1801-10. NIHMSID: NIHMS305938 PubMed [journal] PMID: 21704057, PMCID: PMC3152648

Swanson WH, Fish GE. Color matches in diseased eyes with good acuity: detection of deficits in cone optical density and in chromatic discrimination. Journal of the Optical Society of America. A, Optics, image science, and vision. 1995; 12(10):2230-6. PubMed [journal] PMID: 7500203

Swanson WH, Fish GE. Age-related changes in the color-match-area effect. Vision research. 1996; 36(14):2079-85. PubMed [journal] PMID: 8776474

Felius J, Swanson WH. Photopic temporal processing in retinitis pigmentosa.

Investigative ophthalmology & visual science. 1999; 40(12):2932-44. PubMed [journal] PMID: 10549655

Pearson PM, Swanson WH. Chromatic contrast sensitivity: the role of absolute threshold and gain constant in differences between the fovea and the periphery. Journal of the Optical Society of America. A, Optics, image science, and vision. 2000; 17(2):232-43. PubMed [journal] PMID: 10680625

Swanson WH, Felius J, Birch DG. Effect of stimulus size on static visual fields

in patients with retinitis pigmentosa. Ophthalmology. 2000; 107(10):1950-4.

PubMed [journal] PMID: 11013205

Pearson P, Swanson WH, Fellman RL. Chromatic and achromatic defects in patients with progressing glaucoma. Vision research. 2001; 41(9):1215-27. PubMed [journal] PMID: 11292509

White AJ, Sun H, Swanson WH, Lee BB. An examination of physiological mechanisms underlying the frequency-doubling illusion. Investigative ophthalmology & visual science. 2002; 43(11):3590-9. PubMed [journal] PMID: 12407172

Swanson WH, Cohen JM. Color vision. Ophthalmology clinics of North America. 2003; 16(2):179-203. PubMed [journal] PMID: 12809157

Swanson WH. S-cone spatial contrast sensitivity can be independent of

pre-receptoral factors. Vision research. 1996; 36(21):3549-55. PubMed [journal] PMID: 8977021

Birch EE, Swanson WH. Probability summation of acuity in the human infant. Vision research. 1992; 32(10):1999-2003. PubMed [journal] PMID: 1287996

Swanson WH, Everett M. Color vision screening of young children. Journal of

pediatric ophthalmology and strabismus. 1992; 29(1):49-54. PubMed [journal] PMID: 1583581

Swanson WH, Birch EE. Extracting thresholds from noisy psychophysical data. Perception & psychophysics. 1992; 51(5):409-22. PubMed [journal] PMID: 1594431

Swanson WH. Chromatic adaptation alters spectral sensitivity at high temporal frequencies. Journal of the Optical Society of America. A, Optics and image science. 1993; 10(6):1294-303. PubMed [journal] PMID: 8320587

Swanson WH. Analysis of Rayleigh match data with psychometric functions. Journal of the Optical Society of America. A, Optics, image science, and vision. 1993; 10(8):1807-17. PubMed [journal] PMID: 8350163

Swanson WH, Birch DG, Anderson JL. S-cone function in patients with retinitis pigmentosa. Investigative ophthalmology & visual science. 1993; 34(11):3045-55. PubMed [journal] PMID: 8407212

Stager DR, Everett M, Swanson WH. The importance of controlled illumination in color vision testing in a pediatric ophthalmology clinical practice. Journal of pediatric ophthalmology and strabismus. 1993; 30(1):39-42. PubMed [journal] PMID: 8455124

Swanson WH. Short wavelength sensitive cone acuity: individual differences and clinical use. Applied optics. 1989; 28(6):1151-7. PubMed [journal] PMID: 20548634

Swanson WH, Sun H, Lee BB, Cao D. Responses of primate retinal ganglion cells to perimetric stimuli. Investigative ophthalmology & visual science. 2011; 52(2):764-71. PubMed [journal] PMID: 20881286, PMCID: PMC3053105

Chung I, Bartolone A, Swanson WH, Thau AP. A clinical evaluation of proview

pressure phosphene tonometry in children. Optometry and vision science : official publication of the American Academy of Optometry. 2006; 83(11):817-22. NIHMSID: NIHMS300764 PubMed [journal] PMID: 17106408, PMCID: PMC3124284

Keltgen KM, Swanson WH. Estimation of spatial scale across the visual field using sinusoidal stimuli. Investigative ophthalmology & visual science. 2012; 53(2):633-9. PubMed [journal] PMID: 22167101, PMCID: PMC3317411

Progression of Glaucoma Garway-Heath DF, McNaught AI, Jansonius NM, Heijl A, Bengtsson B, Anderson DR, Swanson WH. Weinreb RN, Garway-Heath DF, Leung C, Crowston JG, Medeiros FA, editors. Amsterdam: Kugler Publications; 2011. Chapter 1, Visual Function Progression; p.3-41. 153p. My Bibliography [book]

Stark LR, Kruger PB, Rucker FJ, Swanson WH, Schmidt N, Hardy C, Rutman H, Borgovan T, Burke S, Badar M, Shah R. Potential signal to accommodation from the Stiles-Crawford effect and ocular monochromatic aberrations. Journal of modern optics. 2009; 56(20):2203-2216. NIHMSID: NIHMS142070 PubMed [journal] PMID: 20835401, PMCID: PMC2934758

Swanson WH, Birch EE. Infant spatiotemporal vision: dependence of spatial

contrast sensitivity on temporal frequency. Vision research. 1990; 30(7):1033-48. PubMed [journal] PMID: 2392833

Ueno T, Swanson WH. Response pooling between chromatic and luminance systems. Vision research. 1989; 29(3):325-33. PubMed [journal] PMID: 2773343

Swanson WH, Pokorny J, Smith VC. Effects of chromatic adaptation on

phase-dependent sensitivity to heterochromatic flicker. Journal of the Optical

Society of America. A, Optics and image science. 1988; 5(11):1976-82. PubMed [journal] PMID: 3210088

Swanson WH, Georgeson MA, Wilson HR. Comparison of contrast responses across spatial mechanisms. Vision research. 1988; 28(3):457-9. PubMed [journal] PMID: 3188408

Swanson WH, Pokorny J, Smith VC. Effects of temporal frequency on phase-dependent sensitivity to heterochromatic flicker. Journal of the Optical Society of America. A, Optics and image science. 1987; 4(12):2266-73. PubMed [journal] PMID: 3430213

Swanson WH, Ueno T, Smith VC, Pokorny J. Temporal modulation sensitivity and pulse-detection thresholds for chromatic and luminance perturbations. Journal of the Optical Society of America. A, Optics and image science. 1987; 4(10):1992-2005. PubMed [journal] PMID: 3430210

Swanson WH, Wilson HR. Eccentricity dependence of contrast matching and oblique masking. Vision research. 1985; 25(9):1285-95. PubMed [journal] PMID: 4072009

Swanson WH, Wilson HR, Giese SC. Contrast matching data predicted from contrast increment thresholds. Vision research. 1984; 24(1):63-75. PubMed [journal] PMID: 6695509

Birch EE, Swanson WH, Stager DR, Woody M, Everett M. Outcome after very early treatment of dense congenital unilateral cataract. Investigative ophthalmology & visual science. 1993; 34(13):3687-99. PubMed [journal] PMID: 8258529

H Swanson W, R Lynn J, Fellman RL, Starita RJ, Schumann SP, Nusinowitz S.

Interoperator variability in images obtained by laser polarimetry of the nerve

fiber layer. Journal of glaucoma. 1995; 4(6):414-8. PubMed [journal] PMID:

19920708

Birch EE, Swanson WH, Wang YZ. Infant hyperacuity for radial deformation.

Investigative ophthalmology & visual science. 2000; 41(11):3410-4. PubMed [journal] PMID: 11006232

Birch DG, Toler SM, Swanson WH, Fish GE, Laties AM. A double-blind

placebo-controlled evaluation of the acute effects of sildenafil citrate (Viagra)

on visual function in subjects with early-stage age-related macular degeneration. American journal of ophthalmology. 2002; 133(5):665-72. PubMed [journal] PMID: 11992864

Visual Science and Engineering: Models and Applications

Swanson WH. Kelly DH, editor. New York: Marcel Dekker, Inc; 1994. Time, Color and Phase; p.191-225. My Bibliography [book]

Marín-Franch I, Swanson WH, Adams BR, Zhu H, Crabb DP. Novel analytical methods for stratus OCT: alignment of the scan circle. Optometry and vision science : official publication of the American Academy of Optometry. 2012; 89(12):e109-11. NIHMSID: NIHMS419338 PubMed [journal] PMID: 23190718, PMCID: PMC3518850

Horner DG, Dul MW, Swanson WH, Liu T, Tran I. Blur-resistant perimetric stimuli. Optometry and vision science : official publication of the American Academy of Optometry. 2013; 90(5):466-74. NIHMSID: NIHMS462867 PubMed [journal] PMID: 23584488, PMCID: PMC3689553

Malik R, Swanson WH, Garway-Heath DF. 'Structure-function relationship' in

glaucoma: past thinking and current concepts. Clinical & experimental

ophthalmology. 2012; 40(4):369-80. NIHMSID: NIHMS482261 PubMed [journal] PMID: 22339936, PMCID: PMC3693944

Swanson WH. Stimulus size for perimetry in patients with glaucoma. Investigative ophthalmology & visual science. 2013; 54(6). PubMed [journal] PMID: 23743001, PMCID: PMC4597430

Marín-Franch I, Swanson WH. The visualFields package: a tool for analysis and visualization of visual fields. Journal of vision. 2013; 13(4). PubMed [journal] PMID: 23492926, PMCID: PMC3600987

Pan F, Swanson WH. A cortical pooling model of spatial summation for perimetric stimuli. Journal of vision. 2006; 6(11):1159-71. NIHMSID: NIHMS513343 PubMed [journal] PMID: 17209726, PMCID: PMC3777700

Swanson WH, Dul MW, Horner DG, Liu T, Tran I. Assessing spatial and temporal properties of perimetric stimuli for resistance to clinical variations in retinal illumination. Investigative ophthalmology & visual science. 2014; 55(1):353-9. PubMed [journal] PMID: 24370832, PMCID: PMC3900271

Gardiner SK, Swanson WH, Goren D, Mansberger SL, Demirel S. Assessment of the reliability of standard automated perimetry in regions of glaucomatous damage. Ophthalmology. 2014; 121(7):1359-69. NIHMSID: NIHMS558934 PubMed [journal] PMID: 24629617, PMCID: PMC4082764

Alluwimi MS, Swanson WH, Malinovsky VE. Between-subject variability in asymmetry analysis of macular thickness. Optometry and vision science : official publication of the American Academy of Optometry. 2014; 91(5):484-90. NIHMSID: NIHMS575370 PubMed [journal] PMID: 24727826, PMCID: PMC4144446

Marín-Franch I, Malik R, Crabb DP, Swanson WH. Choice of statistical method influences apparent association between structure and function in glaucoma. Investigative ophthalmology & visual science. 2013; 54(6):4189-96. PubMed [journal] PMID: 23640041, PMCID: PMC3687963

Marín-Franch I, Swanson WH, Malinovsky VE. A novel strategy for the estimation of the general height of the visual field in patients with glaucoma. Graefe's archive for clinical and experimental ophthalmology = Albrecht von Graefes Archiv fur klinische und experimentelle Ophthalmologie. 2014; 252(5):801-9. NIHMSID: NIHMS605424 PubMed [journal] PMID: 24638255, PMCID: PMC4079702

Swanson WH, Malinovsky VE, Dul MW, Malik R, Torbit JK, Sutton BM, Horner DG. Contrast sensitivity perimetry and clinical measures of glaucomatous damage. Optometry and vision science : official publication of the American Academy of Optometry. 2014; 91(11):1302-11. PubMed [journal] PMID: 25259758, PMCID: PMC4243800

Glaucoma Malik R, Swanson WH, Nicolela MT. 2nd ed. Shaarawy TM, Sherwood MB, Hitchings RA, Crowston JG, editors. London: Elsevier Saunders Ltd; 2014. Chapter 22, Structure and function relationships in

glaucoma; p.261-267. My Bibliography [book]

Swanson WH, Horner DG, Dul MW, Malinovsky VE. Choice of Stimulus Range and Size Can Reduce Test-Retest Variability in Glaucomatous Visual Field Defects. Translational vision science & technology. 2014; 3(5):6. PubMed [journal] PMID: 25371855, PMCID: PMC4217737

Swanson WH, Horner DG. Assessing assumptions of a combined structure-function index. Ophthalmic & physiological optics : the journal of the British College of Ophthalmic Opticians (Optometrists). 2015; 35(2):186-93. PubMed [journal] PMID: 25604956, PMCID: PMC4409833

Hutton WL, Fuller DG, Snyder WB, Fellman RL, Swanson WH. Visual field defects after macular hole surgery. A new finding. Ophthalmology. 1996; 103(12):2152-8; discussion 2158-9. PubMed [journal] PMID: 9003351

Birch EE, Swanson WH. Hyperacuity deficits in anisometropic and strabismic

amblyopes with known ages of onset. Vision research. 2000; 40(9):1035-40. PubMed [journal] PMID: 10738062

Gardiner SK, Demirel S, Goren D, Mansberger SL, Swanson WH. The Effect of Stimulus Size on the Reliable Stimulus Range of Perimetry. Translational vision science & technology. 2015; 4(2):10. PubMed [journal] PMID: 25883877, PMCID: PMC4378323

Huang G, Luo T, Gast TJ, Burns SA, Malinovsky VE, Swanson WH. Imaging

Glaucomatous Damage Across the Temporal Raphe. Investigative ophthalmology & visual science. 2015; 56(6):3496-504. PubMed [journal] PMID: 26047040, PMCID: PMC4464103

Hu R, Marín-Franch I, Racette L. Prediction accuracy of a novel dynamic

structure-function model for glaucoma progression. Investigative ophthalmology & visual science. 2014; 55(12):8086-94. PubMed [journal] PMID: 25358735, PMCID: PMC4266083

Russell RA, Garway-Heath DF, Crabb DP. New insights into measurement variability in glaucomatous visual fields from computer modelling. PloS one. 2013; 8(12):e83595. PubMed [journal] PMID: 24386230, PMCID: PMC3875443

Ashimatey BS, Swanson WH. Between-Subject Variability in Healthy Eyes as a Primary Source of Structural-Functional Discordance in Patients With Glaucoma. Investigative ophthalmology & visual science. 2016; 57(2):502-7. PubMed [journal] PMID: 26873511, PMCID: PMC4758296

Gardiner SK, Swanson WH, Demirel S. The Effect of Limiting the Range of

Perimetric Sensitivities on Pointwise Assessment of Visual Field Progression in Glaucoma. Investigative ophthalmology & visual science. 2016; 57(1):288-94. PubMed [journal] PMID: 26824408, PMCID: PMC4736987

Swanson WH, Dul MW, Horner DG, Malinovsky VE. Individual differences in the shape of the nasal visual field. Vision research. 2017; 141:23-29. NIHMSID: NIHMS796598 PubMed [journal] PMID: 27187584, PMCID: PMC5161726

Swanson WH, Dul MW, Horner DG, Malinovsky VE. Contrast sensitivity perimetry data from adults free of eye disease. Data in brief. 2016; 8:654-8. PubMed [journal] PMID: 27437439, PMCID: PMC4939408

Maddess T. Frequency-doubling technology and parasol cells. Investigative

ophthalmology & visual science. 2011; 52(6):3759; author reply 3759-60. PubMed [journal] PMID: 21632705, PMCID: PMC3109051

Price DA, Swanson WH, Horner DG. Using perimetric data to estimate ganglion cell loss for detecting progression of glaucoma: a comparison of models. Ophthalmic & physiological optics : the journal of the British College of Ophthalmic Opticians (Optometrists). 2017; 37(4):409-419. PubMed [journal] PMID: 28439944, PMCID: PMC5518449

Ashimatey BS, King BJ, Swanson WH. Retinal putative glial alterations:

implication for glaucoma care. Ophthalmic & physiological optics : the journal of the British College of Ophthalmic Opticians (Optometrists). 2018; 38(1):56-65. NIHMSID: NIHMS917310 PubMed [journal] PMID: 29168194, PMCID: PMC5739949

Alluwimi MS, Swanson WH, Malinovsky VE, King BJ. A basis for customising

perimetric locations within the macula in glaucoma. Ophthalmic & physiological optics : the journal of the British College of Ophthalmic Opticians (Optometrists). 2018; 38(2):164-173. PubMed [journal] PMID: 29315706, PMCID: PMC5887979

Alluwimi MS, Swanson WH, King BJ. Identifying Glaucomatous Damage to the Macula. Optometry and vision science : official publication of the American Academy of Optometry. 2018; 95(2):96-105. PubMed [journal] PMID: 29370025, PMCID: PMC5794242

Ashimatey BS, King BJ, Burns SA, Swanson WH. Evaluating glaucomatous abnormality in peripapillary optical coherence tomography enface visualisation of the retinal nerve fibre layer reflectance. Ophthalmic & physiological optics : the journal of the British College of Ophthalmic Opticians (Optometrists). 2018; 38(4):376-388. PubMed [journal] PMID: 29602236, PMCID: PMC6032849

Alluwimi MS, Swanson WH, Malinovsky VE, King BJ. Customizing Perimetric Locations Based on En Face Images of Retinal Nerve Fiber Bundles With Glaucomatous Damage. Translational vision science & technology. 2018; 7(2):5. PubMed [journal] PMID: 29576929, PMCID: PMC5858465

Ashimatey BS, King BJ, Malinovsky VE, Swanson WH. Novel Technique for Quantifying Retinal Nerve Fiber Bundle Abnormality in the Temporal Raphe. Optometry and vision science : official publication of the American Academy of Optometry. 2018; 95(4):309-317. PubMed [journal] PMID: 29561499, PMCID: PMC5895132

Ramezani K, Marín-Franch I, Hu R, Swanson WH, Racette L. Prediction Accuracy of the Dynamic Structure-Function Model for Glaucoma Progression Using Contrast Sensitivity Perimetry and Confocal Scanning Laser Ophthalmoscopy. Journal of glaucoma. 2018; PubMed [journal] PMID: 29917001